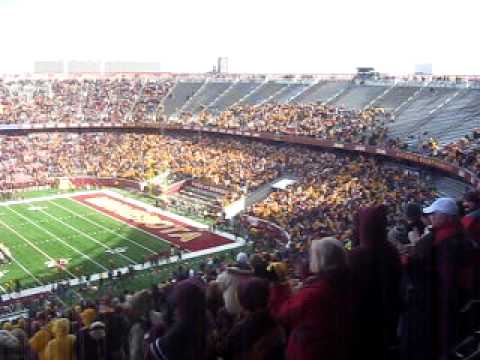 This past weekend was a fun filled weekend of event after event.  First I met my good buddy from Miami Bob Sudler ans his wife Cheri and their daughter Annie who is 6.  We met at the Campus Pizza which is now across the street from where it used to be 30 years ago.  I had an old girlfriend whose uncle used to own it and I thought there may have been a mafia connection.  The pizza was great as ever as we headed out to the homecoming parade with Adam Kelley, a his wife, and family. 
This was the first homecoming parade in 24 years.  It was a great parade going down University avenue past frat row.  The students were really into it.  There must have been 20,000 students there.  We followed the last float in to the stadium for the pep fest.  It's incredible what a new stadium will do for a campus and a community. 
The next day was the big game against Purdue.  I saw Craig and Liz Danielson, Steph Belisle, and Denise Sinclear Todd at the game.  Gophers won pretty easy as we watched quite a bit of the game from the inside DQ section which is really nice on a cold day. 
It was great to meet up with old friends who I've been out of contact with for close to 30 years.  This week I start getting the 30th class reunion going.  So Marie Raygor if you read this blog you know we've got work to do.  I love reuniting old friendships!!
OK, this week a couple of interesting health related topics as far as jobs are concerned. as reported by CNN this afternoon   The number one  job to have is being an engineer, and the number two job was being a Physician Assistant.  Also in the top 10 was number 7 being a Physical Therapist.  Where was Chiropractic I wondered?  We have always been in the top 30 for jobs and now we are no where to be found.  Here is one huge  benefit.  Helping baby boomers keep well without the use of drugs and surgery, sounds good to me.  I was talking to a recent grad of Chiropractic school and I was feeling her pain being over 100k in debt with student loans and the job market as an associate isn't great as far as pay is concerned.  Wouldn't it be great if we all never had to worry about paying for care.  I'd love to get reimbursed well without you guys having to worry about it, but does that solve anything?  I believe the more you put into something the more you get out.  That's not just money, but time, energy, and comittment.  Oh the big"C" word.    There are millions of people who could be helped by Chiropractic.  My strong belief is that everyone should have there spine checked.  Preferably not when in a crisis or to far gone to where you can only hope to manage a condition.  If more people just got adjusted I know our streets would be safer, our houses healthier, are kids less dependant on meds, our schools more productive, and people would make better health choices.  Remember, an adjustment stimulates your brain which controls everything.    
Invest in your health by eating, thinking, and moving better.  If you have not been in for a while I'd love to have you stop in and get checked.  It never costs anything to come on in and say hi and get checked.  OK,  a quick happy 60th to Beth Colaizy, she looks younger every year!   Until next time, how about picking up the phone and contacting a long lost friend, or relative.  I bet it might just make your day!  Dr. E